With lots of mouths to feed and plates to fill, the pressure of cooking can sometimes be too much to handle, especially if you're flying solo.
But cooking for the whole family doesn't have to be a chore. If you've run out of steam in the kitchen and stuck for what to cook or what to use, let us give you a helping hand. Starting with some healthy, hearty family meals to inspire you when you've got your chef's hat on.
Every recipe we've rustled up is aimed to minimize the time you spend in the kitchen – and relieve you of any dinnertime stress! Not to mention cut down on the washing up.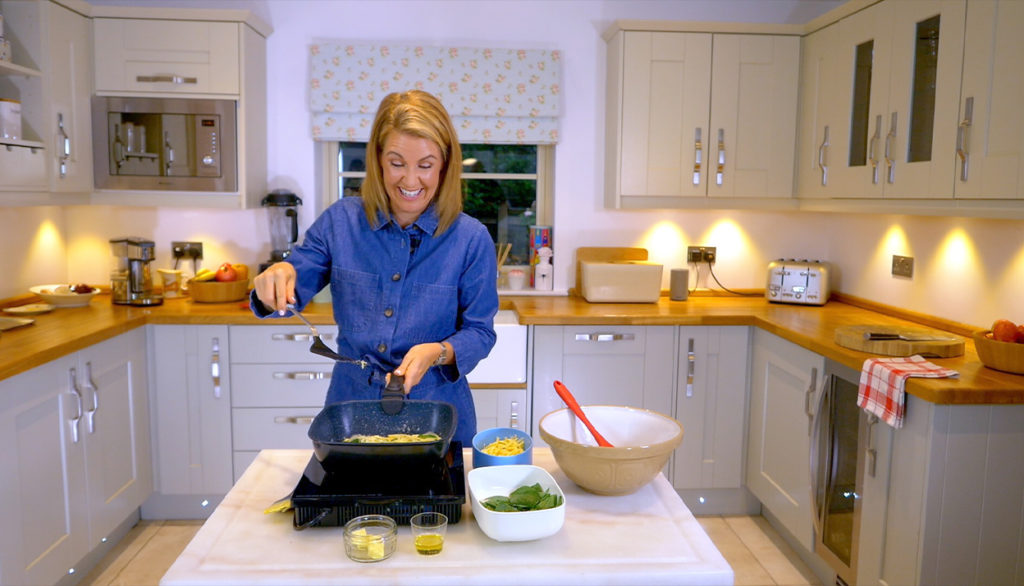 The following recipes contain dishes that will cater to everyone at the dinner table, from veggie fuelled feasts to meaty masterpieces. So why not give these healthy recipes a go?
Vegetable tagine with apricot quinoa – vegan!
Ingredients:
For the tagine
· 1 red onion, chopped
· 2 garlic cloves, crushed
· ½ butternut squash (500 g), chopped into large chunks
· 2 red peppers, chopped
· 400 g can chickpeas, drained
· 400 g can chopped tomatoes
· 500 ml vegan vegetable stock (such as Marigold Vegan Bouillon Powder)
· 1 tsp ground cinnamon
· 1 tsp ground cumin
· 2 tsp turmeric
· 2 tsp paprika
· small bunch coriander, chopped
· small bunch mint, chopped, plus extra to serve
· pomegranate seeds, to serve (optional)
For the apricot quinoa
· 280 g quinoa
· 80 g dried apricots, chopped
· 20 g flaked almonds, toasted
For the dressing
· 4 tbsp tahini
· 2 tsp preserved lemon, finely chopped, plus 2 tsp liquid from the jar
· 6 tbsp almond milk
Method
1. Heat your pan on medium heat and fry the onion over for 3 mins. Add the garlic and butternut squash. Cook for a further 7 mins.
2. Add the remaining vegetables and fry for 3 more mins before adding the chickpeas, tomatoes, and stock, with the spices and seasoning. Simmer for 30 mins, uncovered.
3. Meanwhile, put 750 ml water in a small saucepan, bring to a simmer. Add the quinoa and cook for 20 mins. Stir in the apricots and almonds, with a pinch of salt.
4. For the tahini dressing, mix all the ingredients together in a small bowl and season with a pinch of salt.
5. Serve the quinoa with the tagine. Drizzle the tahini dressing over the top. And to finish, sprinkle chopped coriander and mint and the pomegranate seeds.
Keto coconut lime chicken – one-pot recipe!
Ingredients
· 4–5 skinless chicken breasts
· Salt and pepper to taste
· 1 small onion, chopped
· 3 cloves garlic, minced
· 1 cup water
· Juice of one lime
· 2–3 tbsp dried cilantro
· 1 cup full-fat coconut milk
· ½ tbsp red chili flakes
· 2–3 stalks green onion, chopped
· For garnish: 1 lime, sliced
Method
1. Season both sides of the chicken breasts with salt and pepper.
2. Cook chicken in your pan. Once they're thoroughly cooked, set aside on a plate.
3. Sauté the onion over medium heat in your pan.
4. Add the garlic and sauté for one more minute.
5. Add water, lime juice, and cilantro. Bring to a boil before lowering the heat.
6. Add coconut milk and chili flakes and simmer for 4-6 minutes.
7. Add chicken and cook for a further 7-9 minutes.
8. Serve on individual plates with your favorite keto-friendly side dish. Garnish chicken with chopped green onion and lime slices.
Stuffed couscous, courgette, and mozzarella peppers
Ingredients
· 4 red peppers, halved
· Olive oil
· 15 g (½ oz) butter
· 1 courgette, finely diced
· 110 g (4oz) pack lemon and coriander couscous
· 85 g (3oz) sunblush tomatoes, chopped
· 3 tbsp chopped fresh basil leaves
· 125 g (4½ oz) pack mozzarella
· Serve with a green salad
Method
1. Coat the peppers with a little olive oil. Place on your pan cut side down and grill under medium heat for 5 mins. Turn and grill for a further 5 mins or until the peppers are tender, making sure they don't collapse.
2. Place on a plate and set aside.
3. Then melt the butter in your pan and cook the courgette until golden. Add the couscous and cook for 1 min. Add 200 ml (7 fl oz) boiling water, stir and take off the heat. Cover and leave to stand for 5 mins.
4. Stir the tomatoes and basil into the couscous.
5. Then fill the peppers with the mixture. Add a slice of mozzarella on top of each.
6. Place the stuffed peppers under the grill for 2-3 mins until the mozzarella has melted.
7. Serve your stuffed peppers with a green salad – can be served warm or cold.
Beef and veggie stir-fry
Ingredients
· 400 g stir fry beef strips
· 1 onion, sliced
· 100 g mushrooms, sliced
· 2 red chilies, finely sliced
· 1 garlic clove, sliced
· 300 g broccoli, broken into bite-sized florets
· 1 yellow pepper, sliced
· 2 tbsp soy sauce
· 1 tbsp sesame oil
Method
1. Stir-fry the beef for 2-3 minutes in your pan.
2. Add the onion, mushrooms, chilies, and garlic to the pan – cook for 1 minute. Toss well.
3. Add in the broccoli, peppers, and soy sauce – cook for 2 more minutes.
4. Remove from the heat, drizzle with sesame oil, season to taste, and serve immediately.
Butternut squash risotto
Ingredients
· 1 butternut squash, about 1 kg (2¼ lb), deseeded, peeled and cut into chunks
· 3 tbsp light olive oil
· 1 medium onion, peeled and chopped
· 250 g (8 oz) risotto rice
· 150 ml (¼ pint) white wine
· Approximately 1 liter (1¾ pints) vegetable stock
· 2 tbsp freshly chopped sage
· Salt and freshly ground black pepper
Garnish with:
· Sunflower oil, for frying
· 3-4 sage leaves
Method:
1. Set the oven to gas mark 6 or 200°C
2. Place the chunks of butternut squash in your pan and pour over 2 tbsp of light olive oil. Turn the squash to coat it in the oil, cook it in the oven for 20-30 mins, turning it occasionally, until it's a light golden colour at the edges. Set the butternut squash aside.
3. Cook the onion in your pan over medium heat for 5 mins, until it softens, but doesn't colour. Add the rice to the pan, stirring well, then add the wine to the pan. Bring it to a simmer and stir until the wine is almost completely absorbed.
4. Bring the stock to the boil and then gradually add it to the risotto, stirring the risotto well, until the rice is just cooked. Pour in the stock slowly and stir well to thicken the risotto.
5. To make the garnish, heat a small amount of sunflower oil in your pan. Add the sage leaves and fry until they are crisp, remove them from the pan.
6. Stir the butternut squash into the risotto, with the sage and seasoning. Garnish with sage leaves before serving.